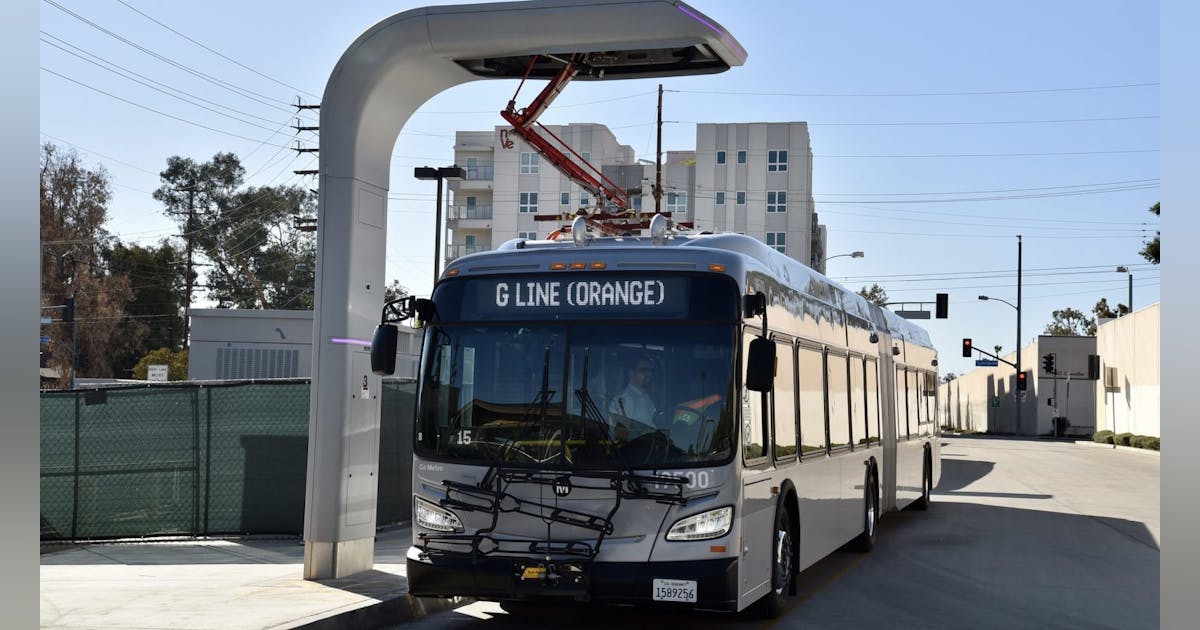 LA Metro's G line now fully electric
The Los Angeles County Metropolitan Transportation Authority's (LA Metro) G (orange) line has completely transitioned to an all-electric fleet of buses, providing customers with a zero-emission, quiet, and ultra-smooth ride experience.
LA Metro has phased out its older 60-foot compressed natural gas (CNG) articulated buses on the G Line — the type that has operated on the dedicated bus rapid transit line since it opened in October 2005 — and replaced them. replaced by 40 new, 60 zero-emission articulated walking buses manufactured by New Flyer. The buses emit zero tailpipe emissions and use advanced electrical technologies such as high-energy batteries and a traction propulsion system.
"Metro is officially on the path to an emissions-free future with its first official use of electric buses on a major rapid transit route," said Hilda L. Solis, LA Metro Board Chair and President of the LA County Board of Supervisors. "This marks the beginning of Metro's long-term commitment and investment in a healthier, fairer and more sustainable bus fleet for LA County, which helps our region reduce its greenhouse gas emissions. greenhouse while dramatically improving the customer experience.
Fast en-route chargers installed at North Hollywood, Canoga and Chatsworth stations give the buses all-day operating capability along the 18-mile corridor. LA Metro says the buses have a range of around 150 miles on a single charge without fast charging.
The new electric buses contribute to LA Metro's equity goals to help reduce disparities in access to opportunity, including health outcomes, in key communities along the bus corridor. Of the 36 stops on the G line, 20 (or 55%) are directly located in or near Equity Focus communities in North Hollywood, Valley Village, Van Nuys, Lake Balboa, Reseda and Canoga Park.
LA Metro began converting its bus fleet to electric buses in July 2020. Since completing its transition from CNG to electric earlier this year, LA Metro has officially traveled 900,000 miles on electric buses.
"Transportation isn't just the biggest source of air pollution in our state – it's one of our biggest opportunities to achieve our vision of cleaner air, fewer emissions and healthier communities," said LA Mayor Eric Garcetti. "If we're going to take action this decade to save our planet, we need to see solutions on our streets today – and watching these zero-emission buses roll down our roads brings us one step closer to reversing the climate crisis."
The buses contain an active suspension that provides a smooth ride for the passengers. The buses also use dual electric drive air conditioning units. Customers can charge their portable devices using USB ports built into the seats of the bus. Buses also have public Wi-Fi access to better connect bus customers on the go. Finally, the buses also have two powered axles for better acceleration and use regenerative braking to recover energy.
LA Metro's electric buses cost $1.15 million each. The project includes the deployment of electric buses and associated charging equipment and infrastructure improvements. The total cost of the buses, equipment and upgrades is $80 million.
LA Metro now plans to use electric buses on the J (Silver) line that connects San Pedro and El Monte via the Harbor Gateway Transit Center. The agency is now working closely with Caltrans, the Los Angeles Department of Water and Electricity, and Southern California Edison on charging designs along the J Line corridor. The final conversion of Line J to electric buses is expected to be completed in about two years.
"Today, we are working tirelessly to create a more sustainable, equitable and resilient public transportation system for all of our customers," said Stephanie N. Wiggins, CEO of LA Metro. "Our zero-emission bus targets are an important part of our overall strategy to reduce our agency's carbon footprint and become carbon neutral. We continue as a transit leader in our march toward a more sustainable and resilient transportation system that will benefit our customers, our industry and our planet.
LA Metro notes that it has ambitious plans to transition from a CNG bus fleet to a zero-emission bus fleet in the coming years. In 2017, the LA Metro Board unanimously passed a motion approving a comprehensive plan to transition the agency to a 100% zero-emission bus fleet by 2030. The agency currently operates approximately 2,300 buses to CNG. The plan depends on continued advances in electric bus technology – which includes increased range, reduced charging times and extended battery life cycles – and lower prices as the technology develops. .
Overall, LA Metro claims to have strong commitments to environmental sustainability as well. The agency plans to move more than 780,000 metric tons of carbon dioxide equivalent in LA County by 2050 through an ambitious suite of sustainability initiatives envisioned in its 10-year sustainability strategic plan. , Moving Beyond Sustainability.