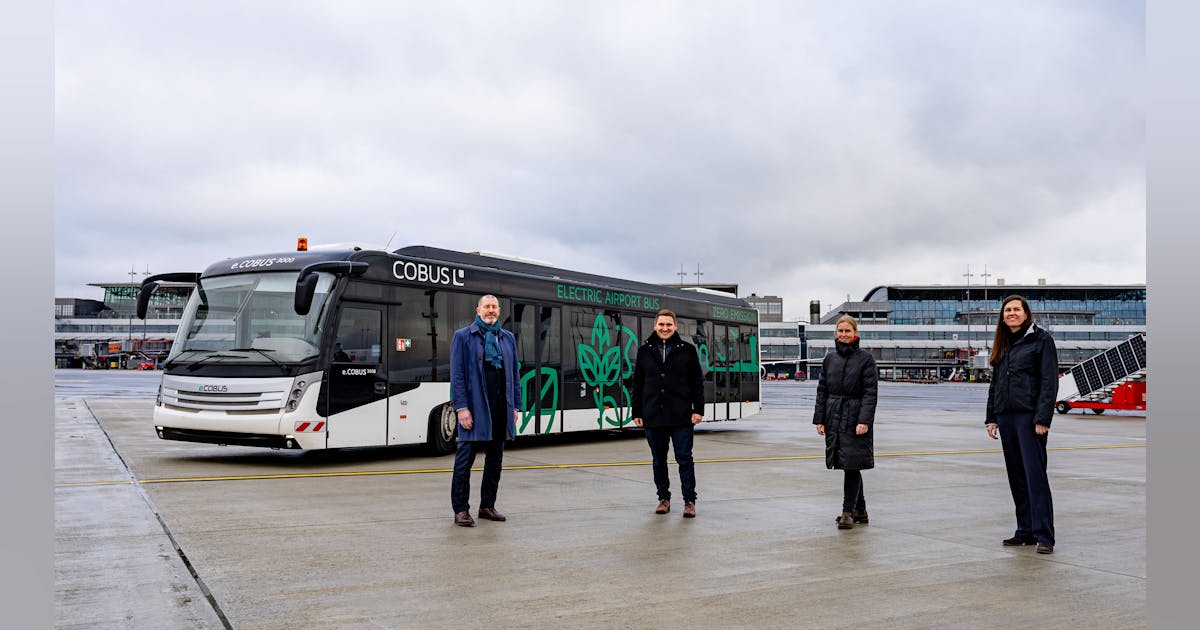 Hamburg Airport strives to protect the climate
Almost 100% of the vehicles on the Hamburg Airport (HAM) apron run on alternative fuels, including synthetic diesel. The emphasis on alternative fuels and the diversity of propulsion modes make the airport a reference for the mobility of the future.
For more than five years, the airport has been operating without fossil diesel. Since the end of 2016, all diesel vehicles at Hamburg Airport have been using zero-emission synthetic fuel. Hamburg was the first international airport in the world to make this change.
According to the airport, its green fleet is made up of a fleet of baggage tractors running on 100% natural gas – and soon on hydrogen; a diesel fleet running on 100% synthetic fuel; solar powered passenger stairs for aircraft boarding; and electric-powered and hydrogen fuel cell passenger cars.
Earlier this year, the airport received an all-electric e.COBUS from COBUS Industries for a run test on the tarmac. The company and the airport partnered with GATE, an airport supply industry association, and used the InnoAirport platform to test the future-oriented and sustainable technology in a real airport operation.
"At Hamburg Airport, we are always open to new technologies. We support the further development of powertrains that make air traffic and ground operations quieter and more environmentally friendly. That is why we are happy to be able to offer the new e.COBUS a real test environment on our apron," said Burkhardt Höfer, General Manager Ground Handling at HAM in a GATE, in a press release announcing the trial.
According to Kevin Fischer, innovation manager at GATE, the test with the e.COBUS was mainly intended to illustrate that an electric bus is able to do a normal shift and therefore replace a diesel model.
In 2019, Hamburg Airport purchased 12 diesel COBUS vehicles and expressed interest in electric or hydrogen drive technology for the future.
"We offer our customers a free test of the e.COBUS for future needs", says Andreas Funk, CCO/Sales Manager for COBUS Industries GmbH in Germany.
The e.COBUS used in Hamburg was a demonstration bus, which came from Lisbon. It was tested during regular shifts, temporarily replacing a diesel bus in Hamburg, then headed to Germany and Italy for further testing.
Funk points out that the e.COBUS was the first electric low-floor airport bus on the market and is based on the well-known COBUS diesel product.
Since 2016, nearly 100 e.COBUS vehicles have been delivered to customers in the United States, Canada, Europe, the Middle East, Hong Kong and China.
"We are the only manufacturer to offer multiple types of battery technologies, such as LTO (lithium titanate) and LFP (lithium ferrophosphate) batteries to best meet operational requirements," says Funk.
The e.COBUS 3000 can carry 110 passengers, the e.COBUS 2700 carries 96 and the e.COBUS 2700S carries 77. The buses have a Mercedes Benz chassis and aluminum body as well as a Siemens ELFA electric powertrain. A full charge usually takes one to two hours.
"A very interesting offer from COBUS is our conversion program known as e.START, where we electrify the COBUS diesel. We have also done this for clients in England, Switzerland and Austria," says Funk.
As the diesel engine is removed and an electric powertrain and batteries are added, over 80% of the material is reused.
Thanks to the e.START project, Funk says: "A diesel COBUS can have a second life and is therefore really sustainable.
To meet future demands for alternative propulsion, Funk reports that COBUS is working on developing the first hydrogen fuel cell bus, which is expected to be available in 2023.
Hamburg Airport has been certified Level 3+ by the Airport Carbon Accreditation (ACA), retroactive to 2021. Airport Carbon Accreditation is an independent certification process specially developed for airports to record and reduce emissions greenhouse gases (GHGs).
At the end of 2021, the airport became Germany's first major commercial airport with CO2-neutral operations.
"We have thus met the strict requirements of the Airports Council International Europe (ACI) for the certification of CO2 neutrality," said Michael Eggenschwiler, Managing Director of Hamburg Airport.
The building blocks of CO2 neutral airport operations are reduced energy consumption, innovative technologies, conservation projects and high quality offset certificates.
Since 2009, Hamburg Airport has reduced its annual CO2 emissions by almost 80%, from 40,000 to 8,700 tonnes. In order to fully offset the remaining CO2 emissions, Hamburg Airport currently has to invest in high-quality offset certificates. With these certificates, in collaboration with FirstClimate, ecological projects are supported to verifiably reduce CO2 emissions in the global cycle. By achieving further CO2 reductions through our own actions, the proportion of offset certificates purchased will be gradually reduced.
The long-term goal is now to go completely CO2-free by 2035.
"Despite the economic difficulties resulting from the coronavirus pandemic, we have pursued our climate protection objectives as a top priority. We are delighted to be the first major airport in Germany to achieve CO2 neutrality," says Eggenschwiler. "Today, we are reaping the fruits of the innovative environmental work that our committed team has undertaken for more than three decades. We would never have achieved carbon neutrality so soon had we not started working consistently towards this goal more than a decade ago. As a municipal company, we set an example and make our contribution to achieving Hamburg's climate protection goals.